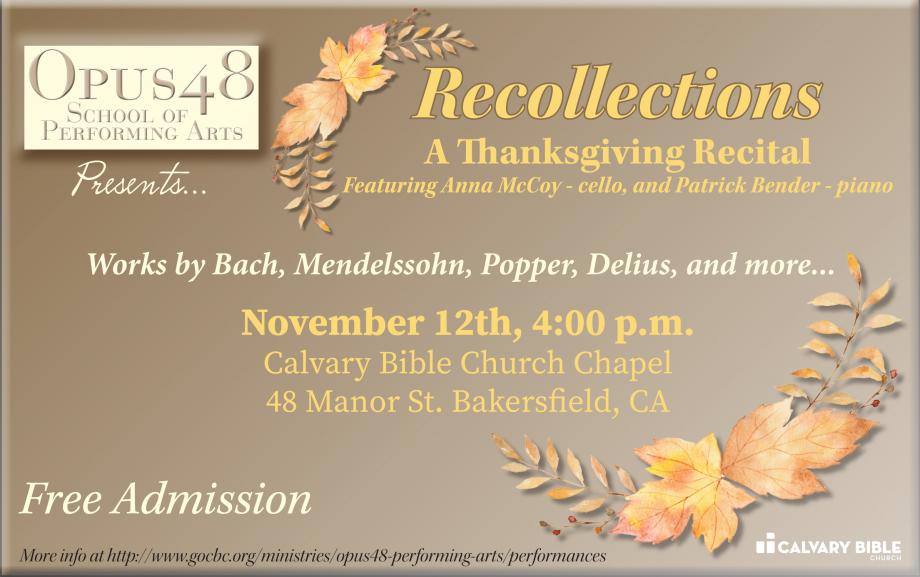 Enjoy an afternoon of music and reflection featuring faculty cellist Anna McCoy and guest artist Patrick Bender. As Thanksgiving approaches, we focus minds and hearts through recollecting the many blessings we have received. This beautiful selection of cello and piano duos will portray stories of thanks and become the soundtrack for your own memories. Come unwind and refocus through "Recollections: A Thanksgiving Recital." Admission is free.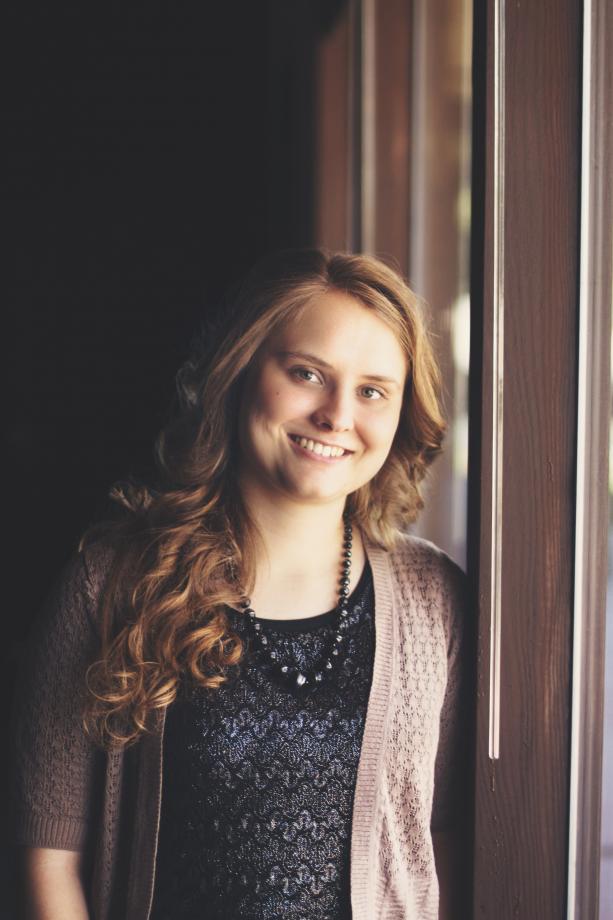 Anna McCoy, cello
Performing cellist and teacher, Anna McCoy, seeks to impart the gift of music with excellence and conviction. Passionate about using performing arts education as a medium to touch the hearts and lives of youths, she instructs nearly one hundred students in performing arts every year through private lessons and group classes.

Anna performs frequently both as a soloist and as an ensemble collaborator in recitals. She is a member of the Bakersfield Symphony Orchestra and plays with the Calvary Bible Church Orchestra. She has been a soloist with the Bakersfield Youth Symphony Orchestra, the Tehachapi Symphony Orchestra, and has performed as a featured soloist on Kern Valley Public Radio's Young Artist Spotlight.

Anna McCoy studied privately under Joseph Mendoes for four years at the Colburn Community School of Performing Arts in Los Angeles. In 2014, Anna was selected to perform in a master class for Carter Brey, principal cellist of the New York Philharmonic. Anna received her early training from Bakersfield's finest cello instructors, Karen Blockley and Norma Sexton. She is honored to carry their legacy to a new generation here in Bakersfield.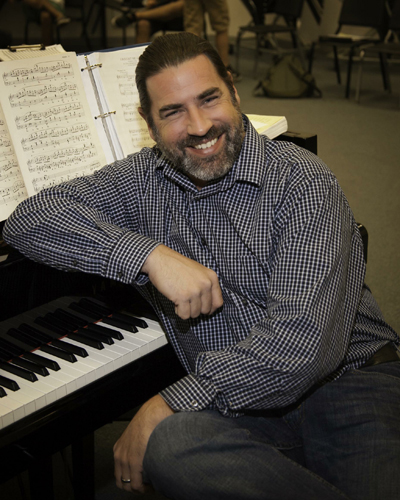 Patrick Bender, piano
Patrick Bender began playing piano at age five. Primarily self-taught, he had only a few private lessons as a youth and so considers himself a product of the public school system.

In his mid twenties he attended Bakersfield College and studied under Dr. John Gerhold. While under his tutelage, Patrick won the MACCC and New Directions composition competitions for his piece "Three Pieces for Solo Piano" and the Young Artists Concerto competition playing Khatchaturian's Piano Concerto, all within a year's time. For this, he received a Distinguished Achievement Award from the Kern Community College District.

While he does solo work occasionally, he prefers accompanying and chamber music, which he has been doing professionally for 19 years. He currently works at Bakersfield College as the accompanist for the choirs and vocalists in the Applied Music program, is the staff pianist at Liberty High School and Wesley United Methodist Church, and is a contract pianist with CSUB.
Recitals
Held once per semester, recitals provide opportunity for students to turn their learning into performance action for a supportive community of family and friends.
Monday, November 6, 2017 at 6:30 p.m. and Friday, November 10, 2017 at 6:30 p.m., both held in the Calvary Bible Church Worship Center
Ministry Arts Groups (MAG)
MAG opportunities are free "add-ons" to group classes or private instruction. Students wanting to minister in the community may choose to sign up for these performance groups. Those participating in MAG must commit to being available for the MAG performance to be held on Saturday, October 28, 2017 at 2:00 p.m., at Rosewood Retirement Community, 1301 New Stine Rd., Bakersfield, CA 93309.