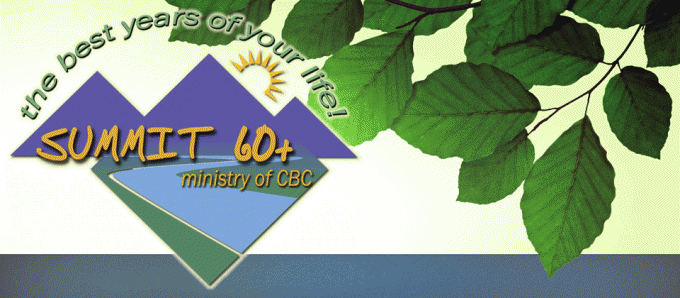 Wednesday Luncheons
Our luncheons are on the first Wednesday of the month and usually take place in Calvary Bible's Activities Center. A great lunch is prepared by Debbie Cole and her crew and we usually have a special speaker or special music.
Tuesday Bible Study
All are invited to join us as we spend time in God's word together, led by Pastor Don, on Tuesdays from 10:00 - 11:00 a.m. in the Manor Rec room. We are currently studying the subject of Heaven.
Lunch Outings
We go out to eat once a month, boarding the CBC bus at the church around 11:30 a.m. Some of the places we enjoy going to are John's Incredible Pizza, Casa Munoz, China Palace, Hometown Buffet, Famous Dave's, Rosa's Italian Restaurant, Rocket Shop Cafe, Black Bear Diner, and Crest Grill.
Activities and Trips
Some of our recent trips include the Strawberry Festival in Arroyo Grande, Avila Valley Barn in San Luis Obispo, The Gene Autry Museum, Tejon Outlets, Solvang, Claim Jumper Restaurant in Valencia, Old Town Clovis, and the Apple Shed in Tehachapi.
Annual Birthday Dinner
This event is a yearly favorite. Creatively decorated tables (one for each month of the year), a delicious meal, and inspiring music highlight this very special evening of celebration. Each year it's a wonderful evening with church friends.
Wheelchair Ministry
Do you or a friend need a little help getting up the ramp to Sunday school and morning services? Well, help has arrived! We have a volunteer with a wheelchair in the handicapped area of the north parking lot on Sunday mornings to assist you. If you or a friend or relative need this assistance or are interested in helping with this new ministry, please call the church office at 327-5921.
Senior Evangelism
Some of you might be interested in our Friday Senior Evangelism visitation and song time at 1:45 pm at Golden Living Center (formerly Beverly Manor Residential Care Home.) A retirement home can be a lonely place, and a mission field, too! These precious elderly people need someone to care, to give them a smile and a hug, to talk to them about the Lord. If you have a burden for the elderly, please join us on Fridays or call the church office for more information at 327-5921.
Shut-in Communion and Calling Ministry
Call and encourage fellow church family members who cannot leave their home easily or often. If you would like to visit them to serve communion and fellowship we would love for you to get involved in this ministry. If you, or someone you know, would like to receive phone calls and visits. please contact us so we can add them to our list. Call the church office for more information at 327-5921.
Jane@gocbc.org, Jane Peterson